JEE Advanced - 2019 Result
VMC Students securing Top scores in JEE Advanced 2019.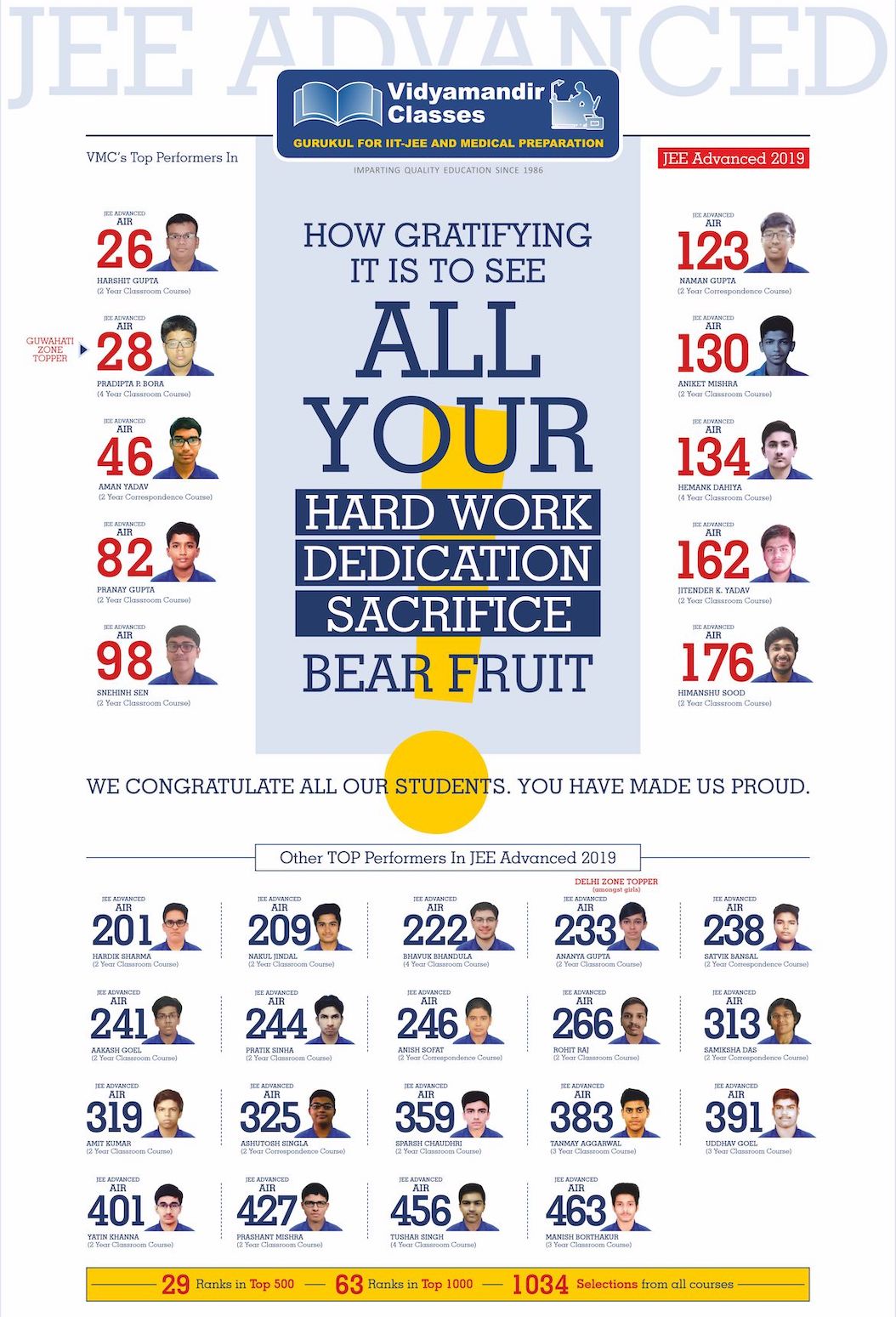 ---
VMC NAT - National Admission Test
In lieu of the COVID 19 pandemic, 29th March NAT will be conducted online. Test can be taken on this link at scheduled Time
Take Online NAT Here .
This Admission Test is for students currently in Classes VII, VIII, IX, X, and XI to take admission in the following IIT JEE/ MEDICAL (NEET) preparation programs in VMC

1 Year Courses For Class XI Students
2 Year Courses For Class X Students
3 Year Courses For Class IX Students
4 Year Courses For Class VIII Students
5 Year Courses For Class VII Students
Check
Syllabus
Sharpen your preparation for JEE Advanced, JEE Main & other Engg entrance exams with VMC's One year Regular Correspondence Course.

Course includes
Study material, Test Series, Result Analysis & Ranking, App based learning and much more
Read more
Buy Online
Tune up your preparation for JEE Advanced, JEE Main & other Engg entrance exams with VMC's Two year All India Test series for JEE 2019.

Course includes
Get all the tests taken by VMC students and compare your performance with thousands of brightest minds in the country. Detailed reports, Result analysis & All India Ranking, and much more
Read more
Buy Online
Tune up your preparation for JEE Advanced, JEE Main & other Engg entrance exams with VMC's One year All India Test series for JEE 2018.

Course includes
Get all the tests taken by VMC students and compare your performance with thousands of brightest minds in the country. Detailed reports, Result analysis & All India Ranking, and much more
Read more
Buy Online